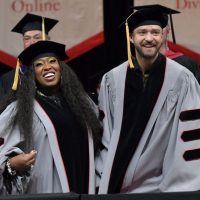 This past Saturday, May 11th, both Missy Elliot and Justin Timberlake received  honorary doctoral degrees from the Berklee College of Music.
After graduation, Timberlake posted to his IG "No Dream is too big!!! Keep chasing!!!". Missy Elliott chimed in with, ""There will be ups and downs — prepare for that. As long as you are breathing, it is never too late. Don't forget that. You have come too far to quit!".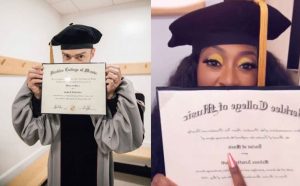 Celebrities such as Reese Witherspoon, , Dwayne the rock Johnson, and of course his gorgeous wife, Jessica Beil took to Timberlakes Instagram to congratulate him. And there was OF COURSE an after party which involved a bottle of wine and a private plane!
Both artists delivered speeches to the 2019 graduating class. You can watch both speeches below.