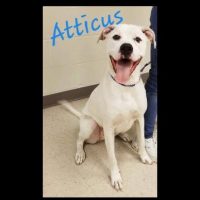 Our pet of the week is waiting for you at the Des Moines County Humane Society. Each week we spotlight an animal that is in search of their forever home.
Atticus is such a great dog! We believe him to be an American Bulldog mix. He is very sweet, playful and loving. Atticus is approximately 1 1/2 years old. He came in as an owner surrender with another dog so he does have experience living with another dog in the home.
Stop by the Des Moines County Humane Society if you are interested in adopting
They are open 3-6pm Tues-Fri and from 1-5pm on the weekends.