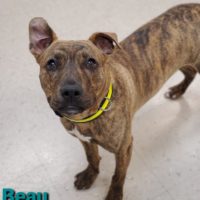 HOT 97-3's PET OF THE WEEK!
Each week we feature an animal from the Des Moines County Humane Society and try to find them a forever home. This week we are featuring Beau!
Beau is an approximately 8 month old pit or pit mix that is currently available for adoption at the Des Moines County Humane Society in Burlington, Iowa. He is a beautiful, sweet Brindle colored boy. Beau loves to play but is a pretty calm pup here at the shelter. A meet and greet would be required if there are other dogs in
 a potential adopter's home.
You can call the shelter with all questions during the following hours: Tues-Fri from 3-6pm and from 1-5pm on the weekends. The are closed on Mondays. Their phone number is 319.753.8389.