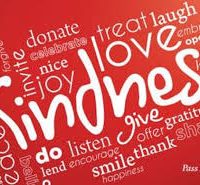 Kara's Countdown to Christmas:    Kindness Challenge!
Each day counting down to Christmas, Kara provides a kindness challenge!
Wed 12/4:  give someone you interact with today a compliment! It's a simple challenge – yet can greatly impact and brighten someone's day.
Thurs 12/5:  If able to, buy a bag of groceries – or even just a few items – and give to a local food pantry. Food pantries are in need year round – so Kara's EXTRA challenge is to mark one day on your calendar each month of the year in 2020 to also donate a grocery bag of food. You can search online or check out this website for a list of local food pantries close to you:
https://www.foodpantries.org/
Fri 12/6:
Find and donate a new teddy bear to your local fire station.
Supplies of bears can be kept on fire engines and ambulances and distributed to children, and in some cases teens, seniors or adults, who are involved in or witness traumatic emergencies such as fire scenes, medical aids or other emergencies.
One gift can keep giving to help others in need!
Sat 12/7:
Send an email or write a note of gratitude to a co-worker or classmate or family member that deserves some recognition.
Mon 12/9:
Create cards for sick children and seniors in need of some cheer – with organizations like cardzforkidz out of Chicago. They are a non-profit that distributes cards and cheer to children and seniors nationally and internationally.
Create on your own – or form a group to make cards to bring cheer! Cardzforkidz also accepts monetary donations to help their organization run.
Brightening someone's day one card at a time.
For more info:
https://cardzforkidz.org/
Tues 12/10:
Reach out and do an act of kindness for a coworker or classmate that you don't talk to as much or don't know that well. Offer a compliment, sit by them at lunch, give them a smile, make them feel welcome.
Wed 12/11:
Let someone in front of you in line, whether it be at the store, a coffee shop, restaurant…..a small, generous gesture that can bring a little light to someone's day.
Thurs 12/12:
Leave an inspirational note or inspirational quote for someone to find. Either in a place for someone you know to find, or out in the community somewhere for someone you don't know to find. You never know who might really need some uplifting encouragement out there.
Fri 12/13 & Sat 12/14:
Attempt to go the entire weekend starting NOW without thinking/saying anything negative about somebody. If you start thinking negativity – challenge it immediately by replacing it with thinking about something positive about that person. If everyone could do this – what a better world this may be!
Mon 12/16:
Make holiday cards to give to residents at a local nursing home in your area. Everyone should be thought of during the holidays! Receiving a card this season can show that they are being thought of, and help brighten up someone's day!
Tues 12/17:
Lend some support to the animal shelters in your area. Local shelters, such as Des Moines County Humane Society in Burlington, and PAWS in Ft Madison (both in southeast Iowa), depend on support and donations to help with all of the work they do. You can support them by money donations or dropping off items from their wish lists. You can also inquire about volunteer needs.
Helping out in any way you can makes a difference for the shelter and will make you feel great about helping pets in need.
https://desmoinescountyhumanesociety.org/wish-list-of-items…
https://pawfortmadison.com/donate
Wed 12/18:
Support hero pups! Help animals that are in the helping profession!
Do you have a Visa or Amex gift card in any amount? If so, send it to Project Paws Alive (ProjectPawsAlive.org). The nonprofit will use the gift cards to fund supplies for active police, fire, rescue, and military K-9s. Mail cards to: Project Paws Alive, 1193 SE Port Saint Lucie Blvd, Suite 289, Port Saint Lucie, FL 30017.
Thurs 12/19:
Say something positive to everyone you meet in the next 24 hours. Then try to continue spreading the positive vibes as a natural part of your normal day routine. Positivity is contagious! It might create a domino effect – ya never know!
Fri 12/21:
Donate your time! Donations don't always have to be money or material items – time is one of the most valuable things. Donate your time by shoveling your neighbor's driveway, walking someone's dog, grabbing coffee for your co-workers, or maybe socializing with folks at a retirement home. You can also look at all of the organizations in the local area that could use volunteer help and start volunteering regularly in the new year. Volunteering is an awesome and rewarding use of your spare time!