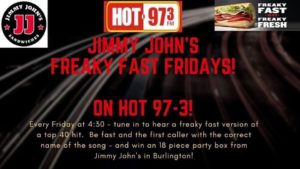 Hot 97.3 and Jimmy Johns are celebrating Fridays with a chance to win free Jimmy Johns – with Freaky Fast Fridays!
Every Friday at 4:30, Kara will play a Freaky Fast version of a top 40 song.   Be the fastest, first person to call the studio with the name of the song, and win an 18 piece party box from Jimmy Johns!
It's Jimmy Johns Freaky Fast Fridays on Hot 97-3!!!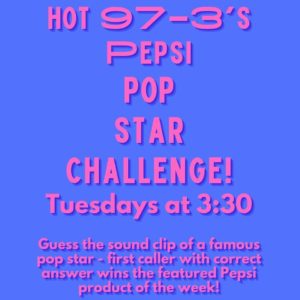 Pepsi Pop Star Trivia – Tuesdays at 3:30 on Hot 97-3!
Tune in when Kara plays a sound byte of a pop star – be the first person to call in with the correct pop star, and win a Pepsi featured product!   This week it is a 12 pack of  Bubbl'r!
The anti-oxidant, sparkling water that boosts, energizes, and restores balance!
Brought to you by Refreshment Services Pepsi, serving Burlington and the surrounding area for over 60 years.