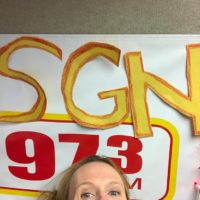 Kara is showcasing people in our community listening area that are spreading kindness and joy amdist this stressful time we are all in!
Avery, our SGN junior correspondent, gives us a report on Heart Hunters!
Tammy King – an angel in our community!  Tammy cooks meals for those in need, is head of Neighborhood Watch, is a CERT first responder, and watches out for her elderly neighbors, all while inspiring others to help those in need.
Jessica Gerling – from the Burlington Parks and Recreation Department – spreading cheer to families by coming up with creative activities for families to do at our parks!
Robin – from the Hysterical Stitchers – part of a group from the Des Moines County Historical Society that are busy making masks for our listening area!
Jeremy Henman – music teacher at West Burlington elementary school – spreading joy and smiles with his video sing-alongs that he is doing for his music students – and bringing cheer to so many kids and families!
Cody Flietner – his hilarious spoof videos during this time, his heartwarming video of the residents of Sunnybrook Assisted Living in Mt. Pleasant that went viral and featured on tv, and his Dancing Dino bringing joy to so many!