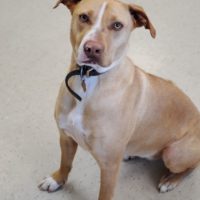 HOT 97-3's PET OF THE WEEK!
Each week we feature an animal from the Des Moines County Humane Society and try to find them a forever home. This week we are featuring Macie!
Macie is a gorgeous 2 year old lab mix. Macie is a little shy of new people so we're hoping the right person (or persons) is out there that will come meet her a couple of times to get to know her. Because of her shyness, she does not show well in her kennel, but once she's out and knows you, you couldn't ask for a sweeter dog! Because of treat guarding, Macie needs to be the only dog in a home. We are recommending a quiet home with no small children due to her shyness and treat guarding tendencies. Macie is a gorgeous girl and once she warms up, she loves to give her humans hugs and kisses.
If interested in adopting a pet from the Humane Society, please call the shelter at 319.753.8389 Tues-Fri from 3-6pm and from 1-5pm on the weekends.