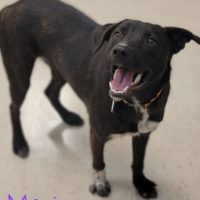 HOT 97-3's PET OF THE WEEK!
Each week Hot 97-3 showcases a pet at the Des Moines County Humane Society looking for a fur-ever home! This week we are showcasing Moxie!
Moxie is a 2 year old female Boarder Collie Mix that is currently available for adoption at the Des Moines County Humane Society in Burlington, Iowa. She has some brindle color on her back and a super sweet demeanor. Moxie would love to find an owner who will let her play and go on walks or runs. She will be a bit shy at first as her past is unknown but once you are on her own level she really comes out of her shell. Super sweet and loving!
All dog adoptions include the spay/neuter, heartworm test, first two sets of basic immunizations as well as a rabies vaccine and a vet visit. The shelter's adoption fee is $125.00 and all dogs do require an approved application. A meet and greet would be required with any other dogs that would be in a potential adopter's home.
The shelter's open adoption hours: Tues-Fri from 3-6pm and from 1-5 on the weekends. They are closed on Mondays. Their phone number is 319-753-8389.
Let's all help get Moxie her furever home!!!