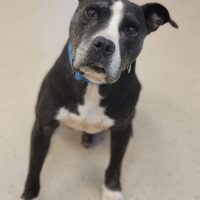 HOT 97-3's PET OF THE WEEK!
Each week Hot 97-3 showcases a pet at the Des Moines County Humane Society looking for a fur-ever home! This week we are showcasing Gramps!
Gramps is a 12 year old male pit mix that is currently available for adoption at the Des Moines County Humane Society in Burlington, Iowa. Gramps is a laid back guy but does like a good run. He is not fond of children so a home with out kids is best. He waits till he is out of the kennel to go to the bathroom. He would love a home that he can live the rest of his life in comfort and get plenty of belly rubs. He has a little tumor on his bottom lip but does not faze him. He loves to lay outside and sunbathe.
A meet and greet would be required with any other dogs that would be in a potential adopter's home. All dog adoptions include the spay/neuter, heartworm test, first two sets of basic immunizations as well as a rabies vaccine and a vet visit. The shelter's adoption fee is $125.00 and all dogs do require an approved application.
Open adoption hours: Tues-Fri from 3-6pm and from 1-5 on the weekends.
Their phone number is 319-753-8389.
Let's all pull together and find Gramps a loving home!