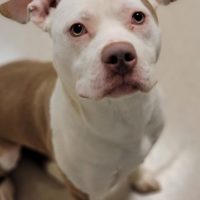 HOT 97-3's PET OF THE WEEK!
Each week Hot 97-3 showcases a pet at the Des Moines County Humane Society looking for a fur-ever home! This week we are showcasing Bubby!
Bubby is a 1 year old male Pit Bull Terrier that is available at the Des Moines County Humane Society. Bubby is a big boy that was a bit shy at first, sweet but shy. He is silly and loves to play and use his energy by running around. He is good at playing tug of war and would like to learn more about playing with someone as it seems he was not taught that along the way. Would love for him to find someone with the patience to work with him on learning commands and letting him snuggle up with you.
A meet and greet would be required with any other dogs that would be in a potential adopter's home. All dog adoptions include the spay/neuter, heartworm test, first two sets of basic immunizations as well as a rabies vaccine and a vet visit. The shelter's adoption fee is $125.00 and all dogs do require an approved application.
Open adoption hours: Tues-Fri from 3-6pm and from 1-5 on the weekends.
Their phone number is 319-753-8389.
Let's all pull together and find Bubby a loving home!