JIMMY JOHN'S BIRTHDAY PHOTO HUNT
Hot 97.3 and Jimmy Johns are on the hunt for great Birthday photos! And if you share yours, you can get hooked up with a Jimmy Johns 18 PIECE PARTY BOX!
Every Monday we will post on our Facebook page asking for your recent birthday photos. You will have all week to leave your photos in the comments of that post, then the following Monday we will choose our favorite photo from the previous week and award that person with some free Jimmy Johns!
Be sure to check out our Facebook page for your chance to win at Facebook.com/hot973.
It's the Jimmy Johns Birthday Photo Hunt every Monday on Today's Hit Music Hot 97-3!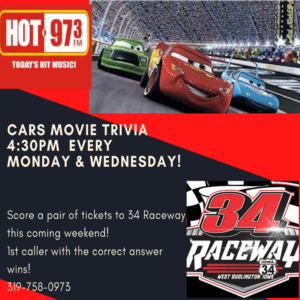 WIN 34 RACEWAY TICKETS  WITH CARS MOVIE TRIVIA!
                                            Listen every Monday and Wednesday at 4:30pm for Kara's Cars movie trivia question.  Be the first person to call with the correct answer and win a pair of tickets to that upcoming weekend's racing event at 34 Raceway!      All season long!