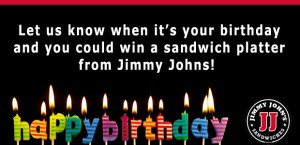 JIMMY JOHN'S BIRTHDAY PHOTO HUNT
Hot 97.3 and Jimmy Johns are on the hunt for great Birthday photos! And if you share yours, you can get hooked up with a jimmy johns sandwich platter!
Every Monday we will post on our Facebook page asking for your recent birthday photos. You will have all week to leave your photos in the comments of that post, then the following Monday we will choose our favorite photo from the previous week and award that person with some free jimmy johns!
Be sure to check out our Facebook page for your chance to win at Facebook.com/hot973
It's the Jimmy Johns Birthday Photo Hunt every Monday on Today's Hit Music Hot 97-3!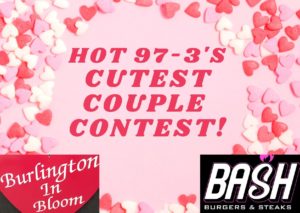 HOT 97-3's CUTEST COUPLE CONTEST
Hot 97-3's Cutest Couple Contest returns!
Share your photo and story on our Hot 97-3 Facebook page – look for the Cutest Couple Contest post to upload directly to the contest app.
Submissions accepted now until January 31st.
Voting begins February 1st and goes through February 10th at 6pm.
Winner will be announced on Kara's show February 10th at 6:30pm!
Winning couple will receive the title of Hot 97-3's CUTEST COUPLE OF 2021 –
AND also receive Valentine's flowers and dinner via gift certificates to Burlington In Bloom and BASH Burgers and Steaks!